There's nothing better than diving into cool water on a sunny day and gazing up at bright blue skies above you. We might not have the tropical seas of the Mediterranean, but once you've braced yourself, counted down, and dived in, Brighton's outdoor swimming spots are a tranquil oasis on a summer's day. Take the plunge this summer, with our guide to the most serene spots for outdoor swimming in Brighton and beyond!
As attitudes evolved and changing fashion allowed more freedom in the 1930s, sunbathing became a national pastime and lidos became a chic feature of seaside towns. A recent renaissance has seen many historic lidos re-opening. Here are our favourite local lidos and outdoor pools: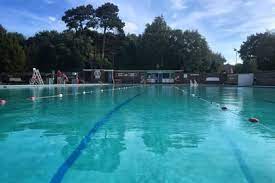 Just a short stroll from the train station, through the quaint cobbled streets of Lewes, is the oldest freshwater lido in the UK. Originally constructed in 1860, the pool has delighted generations of swimmers for over 150 years. The pool has been splashed in by Victorian bathers, used for sea evacuation practice by WWII soldiers, and rescued from demolition by a huge community campaign in the 90s.
Its original features and status as a community hub have stood the test of time. The large 46×23 metre pool is big enough for serious swimming practice, or a game of beach ball at the shallow end. The striking 1950s art deco architecture of the cafe and ticket kiosk has heaps of kitsch charm, selling tea, ice cream and snacks at very reasonable prices. There's a large lawn next to the pool and spacious steps with plenty of room to sit out and soak up the sun.
If you ignore the odd iphone, you 'll find yourself in a picture postcard scene from the 50s: children playing, sunbathers lounging, the odd beach ball flying overhead. Pack your best swimming attire, and get ready for a day of stylish old-school bathing.
---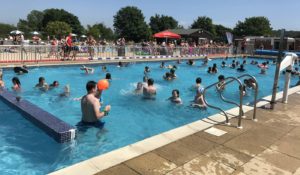 Arundel Lido opened in the swinging 60s, with people travelling from the surrounding towns just to lounge by the pool. Reopened in 2002 due to popular demand, it is now the only remaining lido in West Sussex. The 25 metre main pool and children's pool are both heated – great news for outdoor swimmers who aren't brave enough to brace the icy Atlantic!
As well as the pools, there is a landscaped garden for sunning yourself in with picnic tables, loungers and parasols. Refuel at the cafe or grab something from the barbeque to eat al fresco. The lido is in the beautiful South Downs National Park, so you could incorporate your swim into a day of walking in the amazing local countryside, or visiting Arundel (if a castle isn't enough for you, they also have an amazing gothic cathedral and lots of delightfully British tearooms).
---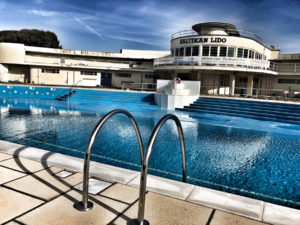 Yes, we know it's not open yet, but that's not going to stop us getting excited!
Designed by renowned architect Richard Jones and opened to the public in 1938. The innovative art deco building has a pool which can accommodate 500 swimmers and a tea terrace, sun deck and cafe which lie on top of the flat roof. Described as looking like a 'stately ocean liner' due to its impressive curved shape, Building magazine called it 'one of the really first-class designs of its type in the country'. Also, the only lido to ever  feature in the Design Museum. Despite falling into disuse for many years, the glamorous building still stands, earning a Grade II listing in 2011.
So: historic, unique, and within cycling distance of Brighton – 'why is it not in use?' I hear you cry! Many fellow Brighton residents feel the same! The Saltdean Lido Community Interest Company was set up in 2013, securing funding to reopen the pool. If everything goes to plan, the lido should be ready for a summer of open air swimming in 2016!
There are plenty of kid-friendly places for any Amphibious bambinos who want to have outdoor fun in the sun, but aren't yet confident enough to swim in the sea. Here are some of the best paddling spots for kids and families: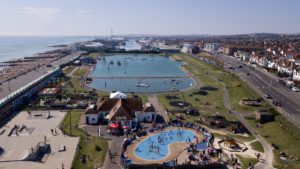 Wander along the seafront on a sunny day up to Hove Lagoon: perfect for soon-to-be strong swimmers. There is a large paddling pool for cooling off, picnic tables, grassy lawn, and a beach side cafe serving snacks. There is also a large water sports centre for bigger kids and adults who can try windsurfing, wakeboarding and sailing.
---
This large paddling pool, set back from the main beach, is perfect for families. There's plenty of room to lounge around the pool. Why not have a picnic or grab an ice cream from the café? There are also large sandpits for those that want to show off their sandcastle building skills. No need to let the pebbles of Brighton beach get in your way!
---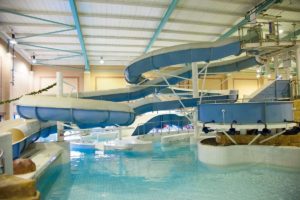 While The Triangle may not have the historic charm of the local lidos, it's the perfect pool for kids. In addition to a heated outdoor pool, it has water slides, indoor and outdoor rapids, a waterfall, Jacuzzi and a shallow area for toddlers to splash in. Once you've worked up an appetite, head to the café. This is the place to be if you want an action-packed aquatic adventure!
For the adventurous types, outdoor swimming doesn't have to be confined to a pool. Wild swimming gives you the chance to explore amazing scenery, immerse yourself in nature, and beat the crowds. If you are new to wild swimming, don't forget to do your research – temperatures will be much lower than a pool, so remember you won't be able to swim as far as usual. Stay close to shore, start off with a short dip and make sure you bring someone with you. Here are some of the most scenic spots for wild swimming in Sussex: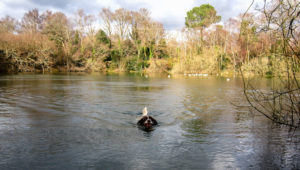 The River Ouse flows through the Sussex Downs, surrounded by stunning countryside. Head to Barcombe Mills, where there is a beautiful stretch of river, perfect for a dip. Bring a picnic, relax on the river bank. Explore the local nature reserve, or head to The Anchor Inn, a rural riverside pub which dates back to 1790!
---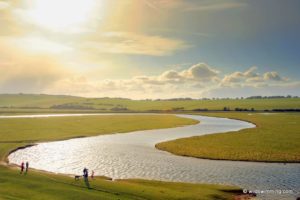 Cuckmere Meanders flow through the Seven Sisters Country Park, funnelling into the sea. It runs across from the foot of the chalky Seven Sisters cliffs which you can follow all the way to Eastbourne. The wide, shallow lakes are warm(ish) and cut off from the main Cuckmere stream. Being  non-tidal it's safe for swimming in certain places. The Seven Sisters are one of the natural wonders of Sussex! Relax on the beach post-swim and enjoy the scenery. Or, clamber upwards and enjoy a awe-inspiring view with a Cliffside picnic. Coastal bus routes from Brighton drop you off right by the Meanders.
---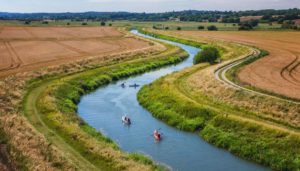 The Eastern Bank of the River Rother, 200 yards from Cowdray Castle , is a popular spot for wild swimming. Despite many swimmers in-the-know coming to this spot on sunny days, it is still relatively secluded, making it the perfect alternative to the hustle and bustle of a busy beach on a sunny day. Take a picnic and dry off on the grassy bank, or check out Cowdray Castle and head to a nearby café for coffee and cake.
---
The Sea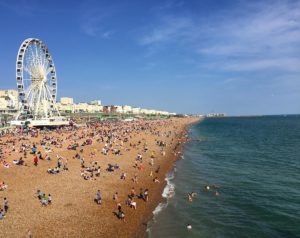 And, last but not least, we couldn't have a guide to outdoor swimming without mentioning…the sea! Brighton beach is a Mecca for outdoor swimmers come rain or shine. From the fair-weather swimmers paddling in the sun, to the ballsy bathers taking the plunge on Christmas Day. The Brighton Swimming Club, established in 1860, regularly holds sea swimming meets for its members, and there are other experienced groups that hold wild swimming events around Sussex.
Stay central and enjoy the dramatic views of the crumbling West Pier! Swim towards the Marina and let it all hang out at the nudist beach, or head to the quieter beaches of Hove. Nothing beats being wrapped up in a towel with some steaming hot Fish and Chips after an invigorating swim in open sea!